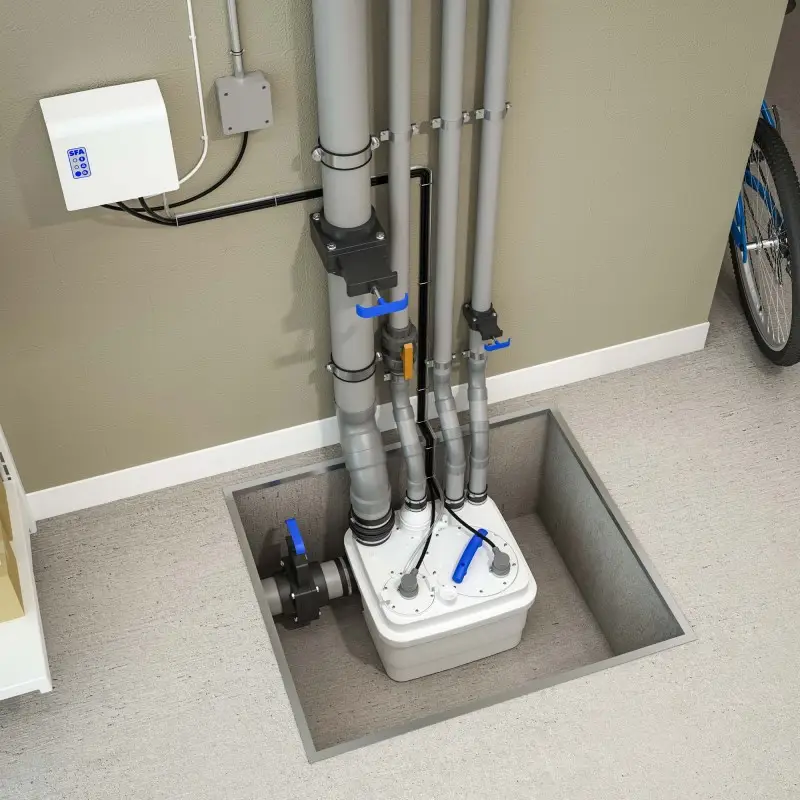  
Sanicubic 1 WP
With SANICUBIC® pumping stations can easily mounted on the ground.
Several inlets available for greater flexibility.
Discreet installation thanks to DN40 (ext. 50) evacuation.
Reinforced waterproofing to IP68 and remote control
The SANICUBIC® WP 1 is a lifting station with one certified IP68 motor and a high performance shredding system which prevents clogging in the pump and the pipes and enabling drainage through low diameters.
The SANICUBIC® WP 1 has been specially developed for individual use (private home, small business premises) and removes all...
Show more
SANICUBIC 1 WP datasheet
Column 0
Application
Individual use
Order type
Classic control box
Materials
Tank
PP
Pump body
PA 12 GF
Motor body
PA 12 GF
Wheel
PP GF
Electrical Specifications
Voltage
230 V
Frequency
50-60 Hz
Power input P1
1500 W
Power output P2
1050 W
Mode of operation
S3 30%
Protection class
IP68
Hydrolic
Max. TDH
13 m
Max. flow
15 m³/h
Ext. inlets diameter
40, 50, 100, 110 mm
Discharge pipe diameter
50 mm
Vent diameter
50 mm
Total volume
32 L
Effective volume
10 L
ON/OFF level
140/70 mm
Alarm level
210 mm
Max. permissible temperature of the pumped liquid
70°C (5 min)
Wheel type
Dilatation wheel
Type of interlocking
Pneumatic
Identification & Logistic
Gross weight
23 kg
EAN Code
3308815074436
Factory code
CUBIC1IP68NM