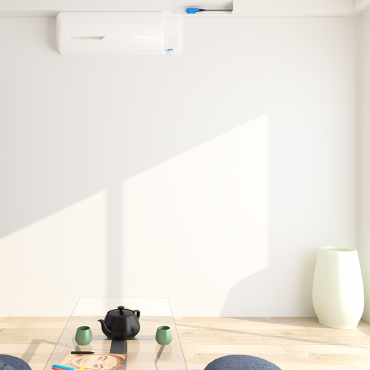 The Sanicondens Clim mini S pump is used to collect condensate from air...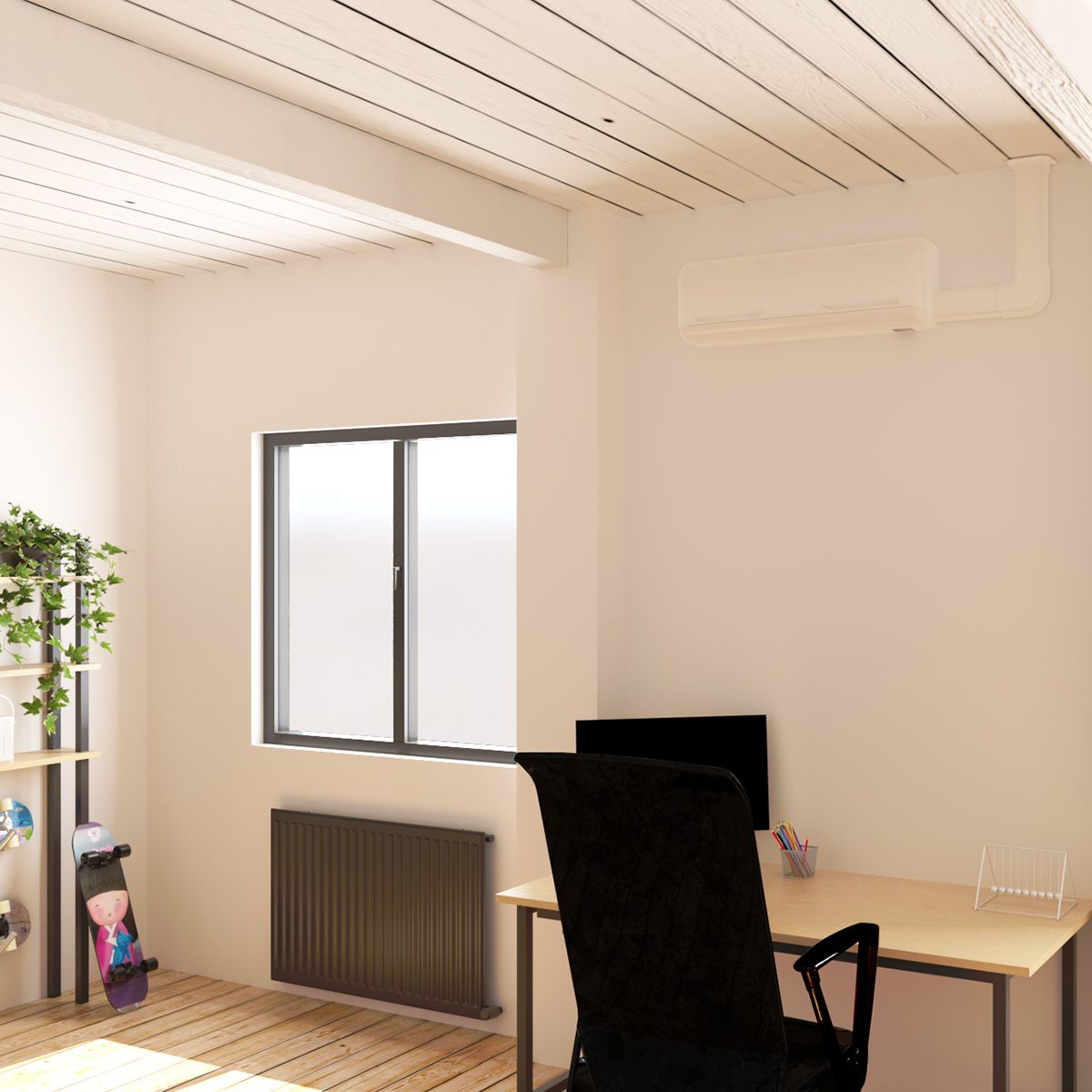 What is an air conditioning pump?
An air conditioning pump is used to evacuate condensates produced by the refrigerating fluid of the device. Its installation is essential when gravity or natural evacuation towards the wastewater system is impossible. Whether it is a reversible or traditional air conditioner, a monobloc, split air conditioning unit, or even a heat pump, the removal of condensates is essential to avoid any water leakage.
What is the air conditioning pump used for? Why take care of condensate removal? How to choose a pump for an AC unit? Find all the answers below.
An introduction to the air conditioning pump
Air conditioners produce condensation. This cooling process creates condensates, which require draining. The condensate removal pump is to be set up near an indoor unit.
When the air conditioner is on, it draws in moisture from the room to cool it down. Because of condensation, water droplets form and later pour into the condensate tray. Water then goes back through the home's drainage system via a pipe. The air conditioning pump is used to drain water that accumulates when the air conditioning system is on. Said system comprises a small pump linked to a sensor. It is most often a floater, used to detect the water level and trigger the evacuation pump's auto-starter at the right time.
Why set up an air conditioning pump?
Air conditioning always generates water. This typical process results from the condensation phase inherent to producing fresh air.
This condensation must be evacuated, either by a gravity system or by utilizing a lifting pump.
In the absence of a suitable pump or the event of its malfunctioning, the air conditioner begins to leak. That implies that the condensate tray is filled to its maximum, which may get clogged up by limescale or dust.
How to pick an air conditioning pump?
Several elements must be taken into account when picking the right air conditioning pump.
The type of air conditioning unit
Air conditioning pump models vary, depending on the type of air conditioner: ceiling cassette air conditioner, fixed, mobile, monobloc air conditioner, wall-mounted, reversible, or split air conditioning systems.
The strength of the air conditioner
The cooling capacity of an air conditioner is proportional to the number of condensates it generates. It is, therefore, necessary to understand that to better optimize condensation drainage.
The weather conditions you live in
In a humid climate, the formation of condensates is more elevated than in drier climates. Knowing this, it is, therefore, necessary to pick a pump that is of the appropriate size.
Setting up a vacuum pump
There are different location possibilities when setting up an air conditioner pump. It can be installed within the device, above it, below it, or at the same level.
SFA's air conditioner pumps
SFA, a specialist in sanitary comfort, is at the forefront of innovation regarding vacuuming pumps for air conditioning systems. Three condensate-removal models from the Saniclim range can meet your needs and requirements: the Sanicondens Clim Deco pump, the Sanicondens Clim Pack S pump, and the Sanicondens Clim Mini S pump. Here are their characteristics:
SFA's Sanicondens Clim Deco
The Sanicondens Clim Deco air conditioner pump is a compact, ready-to-install solution. This equipment is aesthetically pleasing and easy to mount, thanks to its included set-up kit.
The system is equipped with high-performance, automatic-reset thermal shielding. This model is suitable for air conditioners up to 10 kW, with a tank capacity of 0.175 L and a flow rate of 15 L/h. The discharge head is 19 feet, while the sound level of the device is 23 dB(A).
SFA's Sanicondens Clim Pack S
The Sanicondens Clim Pack S air conditioner pump is a ready-to-set-up and thorough solution. Its installation is more accessible, as the connection and mounting accessories come with it.
The system consists of a chute containing the miniature pump with a detection sensor case. The latter makes it possible to check for the presence of impurities, which facilitates maintenance. It has got a flap that can be moved left as well as right. This equipment is suitable for air conditioners with a maximum power of 8 kW and a flow rate of 9 L/h. The guaranteed vertical discharge is 19 feet, and the device is very quiet, thanks to its sound level of only 21 dB(A).
SFA's Sanicondens Clim Mini S
Lastly, the Sanicondens Clim mini S is a discreet, compact, silent condensate removal pump. It is suitable for air conditioners with a power of 8 kW and offers a flow rate of 9 L/h. The Sanicondens Clim mini S has a discharge head of 19 feet and a silent engine (21 dB(A)).