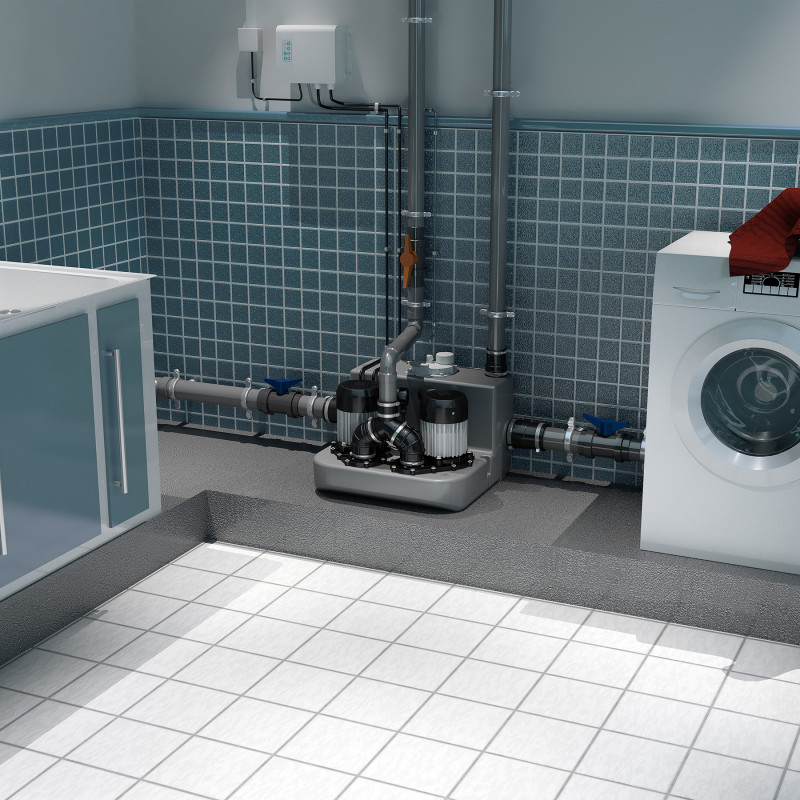  
Sanicom 2
Ideal for intensive use
Compact design
Ability to pump water of up to 90°C.
Comes with remote control:
2 pumps in alternate use for more intensive use.
SANICOM® 2 is a dual-motor lift station for draining wastewater from bathrooms (not toilet), kitchens, and laundries.
SANICOM® 2 has two independent pumps. Its second motor will relieve the first one by engaging when too much water enters the pump.
The SANICOM® 2 is advisable for intensive use.
...
Show more
SANICOM® 2 datasheet
Column 0
Application
Bathtub, Washing machine
Maximum incoming water temperature
90 °C intermittently (max 5 min)
Materials
Tank
PE
Pump body
PA 12 GF
Motor body
Aluminium
Wheel
PA 6 GF
Electrical Specifications
Voltage
230 V
Frequency
50-60 Hz
Power input P1
1500 W
Power output P2
1050 W
Protection class
IPX4
Hydrolic
Max. TDH
15 m
Max. flow
16 m³/h
Ext. inlets diameter
40, 50, 80 mm
Discharge pipe diameter
50 mm
Vent diameter
50 mm
Total volume
34 L
Effective volume
13 L
ON/OFF level
145/60
Alarm level
215 mm
Clearance
8 mm
Type of interlocking
Pneumatic
Identification & Logistic
EAN Code
3308815082868
Factory code
COM2002