The Sanicondens Pro V.02 pump removes condensate from air conditioners and...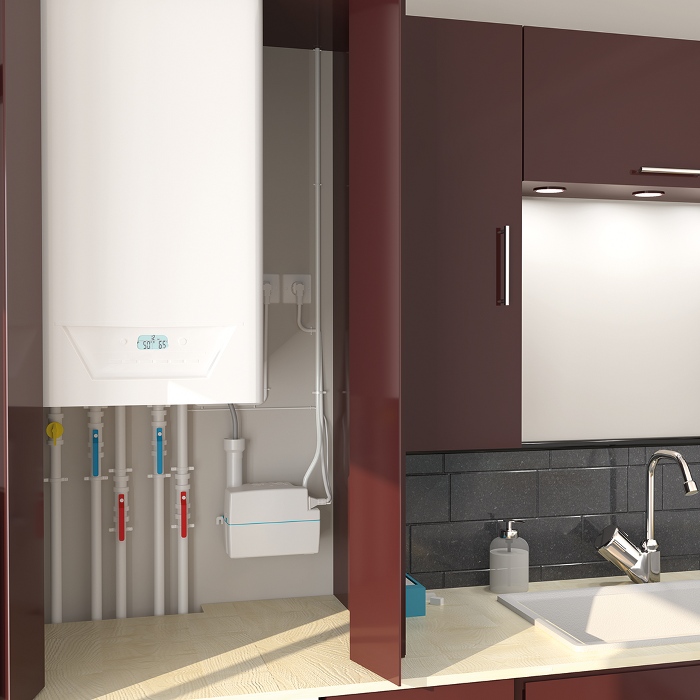 Setting up a gas-condensation boiler to heat your home requires that you take precautions. Among said precautions, it is necessary that acids produced by the device be processed appropriately. A condensing boiler produces steam residues during its combustion activity called condensates. This very acidic waste cannot be expelled into either the public or private sewer network unless processed first. Otherwise, they would contribute to environmental pollution. SFA offers simple and effective solutions for condensate neutralization. In addition, when gravity-based drainage of the house sewage system is not possible, one must install a condensate removal pump. What is a boiler pump? How to choose the right sump pump? What pump models are available? Below is the answer!
Boiler condensate draining
For optimal performance, a condensation boiler recycles the calories produced by the water vapors during gas combustion. When these vapors go to a liquid state, they release heat, which enters the water heater exchanger. The water production that results from this condensation process is called condensates. Due to their high acidity content, it is primordial to get them correctly discharged toward the sewage system. To do this, there exists two solutions. The first is to set up a wastewater gravity drain outside of one's home. Gravitational flow is, however, only possible if your heating device is heightened. The second option is a real deal breaker: all there is to do is couple your boiler with a pump. The pump will allow condensate adjusting and their safe discharging outdoors. This device is all the more practical, as it can be put in place without carrying out heavy-duty work.
An introduction to boiler pumps
A pump is used to drain out condensates whenever there is no gravity drain, when the slope for wastewater draining towards the sewage system proves to be too low, that is. Having a condensate pump set up makes it possible to safely drain the acidity both gas and fuel combustion emit. The condensates are sent outdoors through a discharge pipe set at the proper lift height based on the layout of the premises. A normally-operating 25 kW boiler produces approximately 1.5 liters of condensates an hour. This quantity, far from being negligible, must imperatively be drained.
How to pick your boiler pump?
Depending on your needs, there are various types of boiler pumps.
Do you want a condensate removal solution, an acid neutralization system, or both?
Would you like a pump discreetly placed under a wall-mounted boiler or a floor-standing boiler model with integrated neutralization?
Do you need a one-only input pump or several to connect other devices to it?
Also, take the future location of your device into account, whether it is noticeable or placed near any living space, that is. You might then need a discrete model.
Finally, think about the manometric lift height and the horizontal pipe discharge. These two measurements must correspond to your set-up relative to the layout of the wastewater drainage network.
SFA's boiler pumps
For more than 60 years, SFA has been working for both individuals' and professionals' daily sanitary comfort. A renowned leader in the field, the group has continued to innovate over the following decades to optimize its products— with now one of SFA's areas of expertise being domestic and professional pumping solutions. Learn about the features of our five boiler pump models, so you can pick the model that best meets your needs. You can choose between the Sanicondens drainage pump range or the compact Sanineutral Mini model.
SFA's Sanicondens Deco+ pump
Silent, compact, and with a sober design, these are the three main features of the Sanicondens Deco+ boiler condensate pump. Its properties make it possible to connect the pump to a water heater completely unnoticed. Its less than 25 dB(A) sound level makes it perfect for its set-up in a small open space, such as a kitchen. This model provides a flow rate of 10 liters per hour and comes with a 175ml tank. It is suitable for the pumping and draining of condensates from a condensation boiler with a maximum power of 25 kW. Its condensate lift height is up to 19 feet, while the horizontal discharge extends over 196 feet. It is a single-input device, meant to be coupled with a heating unit. The Sanicondens Deco+ drainage pump comes with a 2-year warranty and the following features:
       ◾ A wall-mounting kit;
       ◾ Cover screw caps.
SFA's Sanicondens Best Flat pump
The Sanicondens Best Flat is a floor-standing boiler pump with low input to facilitate plugging. Its main characteristic is to provide a complete, integrated condensate-neutralization solution. This model is efficient and comes equipped with three additional inputs for coupling with three other air conditioning, heating, or dehumidification devices. The low noise level of less than 45 dB(A) allows this drainage pump to be set up anywhere, especially since it can be discreetly placed on the floor or mounted on the wall. Before it starts pumping condensates, the system neutralizes water pH with the help of aggregate composites. The starter kit comes with a bag of aggregate composites, which must be replaced every 12 months. This way, your home evacuation ducts remain safe from acid corrosion. Its lifting height is 14 feet, and its length is 164 feet. The Sanicondens Best Flat drainage pump comes with a 2-year warranty and the following features:
       ◾ Input and output adapters;
       ◾ An alarm cable;
       ◾ A 5-foot-long power cable;
       ◾ A non-return valve;
       ◾ Condensate-neutralizing aggregate composites;
       ◾ A 16-foot-long drain hose.
SFA's Sanicondens Eco v02 pump
Thanks to its two inputs, this condensate pump for gas or oil-powered boilers can also pump and drain air conditioner or dual-flow ventilation system wastewater. In this second version of the model, set-up is facilitated for wall or floor-mounting usage (mounting screws provided). This drainage pump is discreet due to its compact dimensions and low noise level. The tank capacity is 2.2 liters. Once filled, the integrated floater triggers a condensate-filled water discharge. Its discharge distance is up to 14 feet vertically and 164 feet horizontally. The Sanicondens Eco v02 drainage pump comes with a 2-year warranty and the following features:
       ◾ Input and output adapters;
       ◾ A 5-foot-long power cable;
       ◾ A non-return valve;
       ◾ A 16-foot-long drain hose;
       ◾ Mounting screws.
SFA's Sanicondens Pro v02 pump
The Sanicondens Pro v02 is a professional condensate pump. Thanks to its two inputs, you can simultaneously couple it with a boiler and an air conditioner. Both compact and silent, this drainage pump has a large 2,2-liter tank. This large volume makes it possible to reduce the number of times the engine boots, thus extending its lifespan. With a flow rate of 6.2 l/min, this pump can propel condensates up to 164 feet in length and 14 feet in height. The complete fixing kit this pump comes with facilitates its set-up. The Sanicondens Pro v02 drainage pump comes with a 2-year warranty and the following features:
       ◾ Input and output adapters;
       ◾ A rubber plug;
       ◾ A 5-foot-long long power cable;
       ◾ A pre-connection cable for the alarm;
       ◾ A 16-foot-long drain hose;
       ◾ Mounting screws.
SFA's Sanineutral Mini neutralizer
You can set up the Sanineutral Mini condensate neutralizer if you are equipped with gravity drainage. This device is suitable for gas boilers with a power of up to 25 kW. The Sanineutral Mini also has an extra input. This allows you to connect it to the front of one of the heating-system pump models. Its minimalist format allows it to be set up discreetly and without hindrance. The function of this device is to remove acidity present in your condensate-laden water heater before they get expelled into the drainage ducts. This way, you preserve the lining of your piping system. A translucent window allows you to check the current number of neutralization aggregate composites left. The device maintenance is made easier by the presence of a removable cover. The Sanineutral Mini condensate neutralizer comes with a 2-year warranty and is shipped with the following features:
       ◾ Aggregate composites for condensate neutralization;
       ◾ Fixing brackets;
       ◾ Integrated siphon.